We asked and you answered! Here's the Survey Results from last month's survey. Thank you for taking the time to complete it.
1. What do you see as the biggest challenges to hiring strong employees?
understanding and organizing the process - 4%
loss of staff and board productivity to manage the process - 7%
finding qualified candidates - 18%
finding candidates who fit the organization's culture - 51%
getting the best information about the candidate (interviewing, checking references) - 13%
negotiating the offer - 1%
other - 6%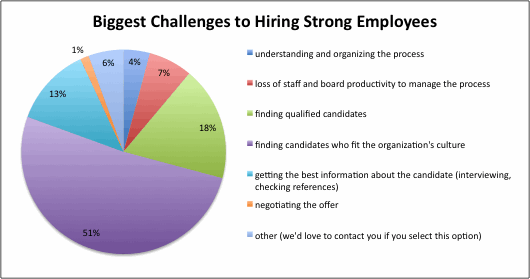 2. What factors are most important to you when considering using consulting services?
compatibility of consultant's personality with organization and Point of Contact - 7%
experience in the field or knowledge of specialty area - 31%
flexibility or adaptability of services and innovation - 11%
ability to complete tasks efficiently and effectively - 11%
budget or cost - 15%
capacity of current staff/Board - 4%
increased staff and board productivity/limit loss of staff productivity or distraction - 4%
time to solution (speed up process) - 4%
access to best practices and lessons learned from other organizations (what are others doing, an outside look to learn from) - 11%
other - 1%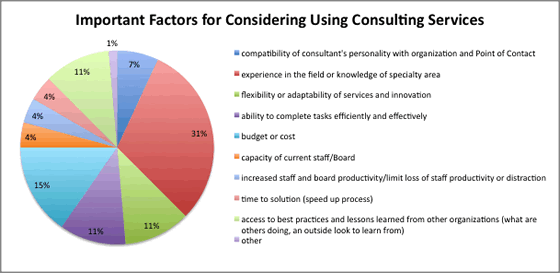 3. When receiving printed materials from consulting engagements, which format(s) do you prefer?
electronic (Save the trees! Save the trees!) - 57%
hard copy (I need something I can touch) - 8%
both (I'm a multi-sensory kind of person) - 28%
either (I'll take whatever you're willing to give me) - 6%
other - 1%